WE LOVE WHERE WE LIVE!
What if we united to offer our communities 100s of hours of acts of kindness in the form of service? Last summer we totaled over 500 hours of service in our community, and we are excited to do it again this year! We are working together to find ways to make a difference in the places we live, either individually or collectively. By showing God's love we hope to have a positive influence on the lives of those around us. It doesn't matter how young or old you are, you can get involved!
Our goal is to serve 100 hours each in Newark DE, Elkton MD, and Avon Grove PA. All you have to do to be part of this is to serve, then log your hours by clicking the button above!
We are looking for more ideas too – so if you have them send them our way!
SERVE SOMEWHERE
You can serve your neighbor, a friend, at a school, at a non profit, or really anywhere! Check out the list below for ideas!
WEAR YOUR SHIRT
Don't forget! Represent!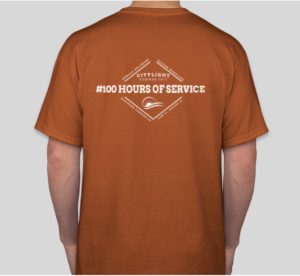 TAKE SOME PICS
While you are serving snap a few pics and post them to Insta and Facebook with #100hours and #citylightvineyard.
FILL OUT FORM
Fill out the form, by clicking the button above, so we can track the amount of service we are doing! Remember it's a competition!
Places to Serve
Check back often as we'll be updating this list. Also, remember you don't have to serve with a non profit or school. You can serve a neighbor, a friend, a coworker, or anyone!