We know these are scary times. In an effort to help people in our community, we are trying to keep this page updated with helpful information should you run into financial issues, food or shelter insecurity, or abusive situations. The text below contains miscellaneous helpful links from the tri-state area. The form is a way for you to ask for help from our volunteers if you or someone you know is in need due to the Coronavirus.
FOR THE MOST ACCURATE AND UP TO DATE INFORMATION ON THE CORONAVIRUS, AS WELL AS INFO ON HOW TO KEEP YOURSELF HEALTHY AND SAFE, PLEASE VISIT CDC.GOV
MARYLAND
The image below shows Breakfast & Lunch distribution sites in Cecil County MD: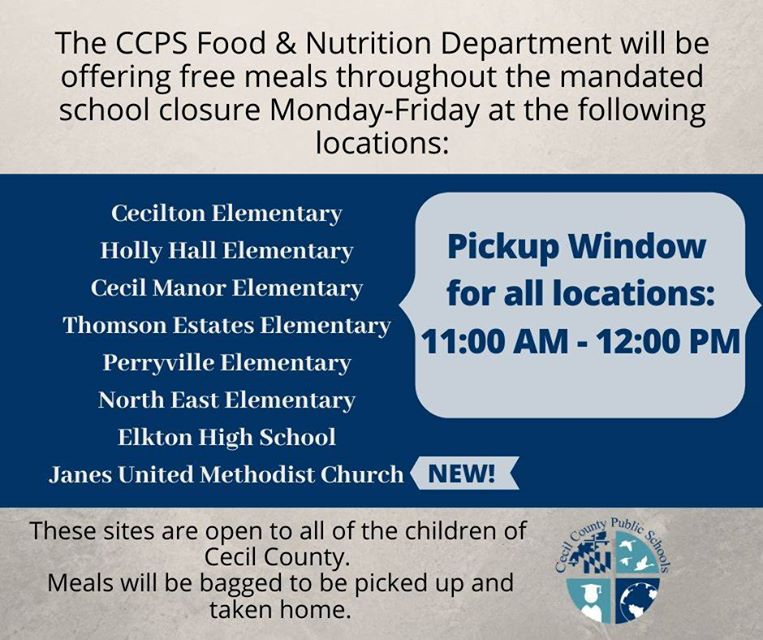 To request the breakfast/lunch meals be delivered to your home (see Feed the Kids Spring 2020 on FB): 
CLICK HERE
Cecil County Responding to Domestic Violence, Sexual Assault and Human Trafficking During the COVID-19 Pandemic.
The programs designed to respond to issues of domestic violence, sexual assault, human trafficking and child sexual abuse in Cecil County are The Bridge (Domestic Violence Rape Crisis Center) and the Child Advocacy Center. Each remains open and operational, although those in need of services must schedule an appointment in advance in order to enter the buildings.
The 24-hour hotline number for The Bridge is 410-996-0333 and many of our services can be provided via telephone to include safety planning, information about legal services, crisis intervention and referrals to other resources.
For local services regarding human trafficking, please call 443-406-5653. To report child abuse, please call the Department of Social Services at 410-996-0100 and press option 3.
During this time of pandemic we recognize that many may not have free and safe access to use their phones. The Bridge does not currently have the capabilities to offer online or texting options for the hotline. If you need to talk to someone about domestic violence, sexual assault/abuse or human trafficking and it is only safe to do so through chat or text, here are some resources:
• National Domestic Violence Hotline: www.thehotline.org or Text LOVEIS to 22522
• Rape Abuse Incest National Network (RAINN): www.rainn.org for live chat
• The National Human Trafficking Hotline: Text INFO or HELP to BeFree (233733)